LoRaWAN Ambience Monitoring Sensors

- Understand Your Environment Visually -
AM300 series is a compact indoor ambience monitoring sensor for measurement of temperature, humidity, light, CO2 concentration, HCHO/O3 level, TVOC, barometric pressure, PM2.5, PM10 and motion. The data will be shown on the E-ink screen in real-time, which helps to measure the indoor environment and comfort. AM300 series is widely used for offices, stores, classrooms, hospitals, etc. 
Sensor data is transmitted using LoRaWAN® technology. Combining LoRaWAN® gateway and IoT Cloud, users can manage all sensor data remotely and visually.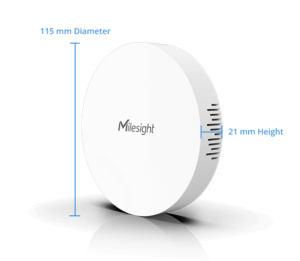 Mini LoRaWAN® UG63 Gateway
High-Performance NXP industrial processor and SX1302 chip

Support Listen Before Talk (LBT) for downlink
Small in size for easy carrying & deployment
Desktop, wall or ceiling mounting support
Cover the blind spot of LoRaWAN® network by transmitting data to UG56/UG65/UG67 controller gateway
Milesight DeviceHub & IoT Cloud provide easy and centralized management of remote devices
Enable security communication with multiple VPNs like IPsec/OpenVPN/L2TP/PPTP/DMVPN
Compatible with mainstream network servers like The Things Industries, ChirpStack, etc.
Built-in network server and MQTT/HTTP/HTTPS API for easy integration
Support 20-50 end nodes with embedded NS for small deployment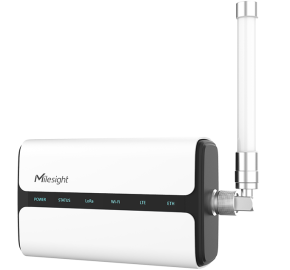 Semi-Industrial LoRaWAN® UG65 Gateway
Quad-core industrial processor with big memory

Equip with SX1302 chip, handling a higher amount of traffic with lower consumption
IP65 enclosure and industrial design for parts of outdoor environment applications like eaves
Multi backhaul backups with Ethernet, cellular (4G/3G) and Wi-Fi
Milesight DeviceHub and IoT Cloud provide easy and centralized management of remote devices
Enable security communication with multiple VPNs like IPsec/OpenVPN/L2TP/PPTP/DMVPN

Compatible with mainstream network servers like The Things Industries, ChirpStack, Actility, Everynet, etc.
Detect and analyze the noise level and provide an intuitive diagram for deployment
Built-in network server and MQTT/HTTP/HTTPS API for easy integration
Embedded Python SDK for user's secondary development
Fast and user-friendly programming by Node-RED development tool